Working in a foundry can be highly rewarding, especially for individuals who like to work with their hands in a fast-paced environment. If that sounds like you, and you're in search of ideas for a career path or want to discover new job opportunities, we're here to give you more insight into what foundry work is like. Explore the positions and requirements involved to learn more about how to become a foundry worker.
Types of Technical Positions in a Foundry
In general, foundry employees work inside facilities where the main goal is to melt and pour metal for various applications. Some central aspects of foundry work include grinding, sand making and coremaking to make metal casting possible.
There are numerous moving parts involved in a foundry, making it essential to employ different kinds of skilled workers. While some foundry workers might need to know how to operate forklifts, others may need to know the ins and outs of machinery to ensure it functions properly.
Here are a few common roles found in foundries:
1. Melt/Furnace Tending
A furnace tender works with the furnaces in the foundry to properly melt the metals. This job involves setting up, operating and controlling furnaces to ensure the temperature inside is appropriate and can melt different metals based on certain specifications. These workers need to understand how furnaces work so they can control them correctly and may have to act quickly to resolve issues when they arise.
2. Maintenance
Like in any industrial facility, maintenance is key to ensuring the machines in a foundry are operating correctly. Therefore, foundries hire maintenance workers to address issues that may arise with said machines. These repairs must happen in a timely manner to keep production on track, so anyone pursuing a maintenance role should be prepared to work in a fast-paced environment.
3. Molding and Coremaking
As a foundry molder or coremaker, you make the molds and cores to support the production of metal castings. This position involves working with sand or wax to create sections, contours and more. Additionally, you might form and assemble cores according to different patterns. This role requires employees to work continuously with their hands.
4. Cutting/Grinding Casting
This foundry position involves using tools like grinders, belt sanders and abrasive wheels to remove the excess metal from castings to ensure a fully finished end product. It requires workers to know how to use different types of equipment and have an eye for detail.
Qualities and Experience Necessary to Work in a Foundry
Those interested in the machinist career path or similar jobs in foundries should understand the qualities and experience they need before applying for positions. Let's break down the abilities and education or work history you may need to have to become a foundry worker.
Qualities
Most importantly, foundry workers must be able to withstand potentially intense physical requirements. Almost all foundry work requires employees to use their hands to operate equipment and machinery. Additionally, they may have to stand for long periods of time. While reasonable accommodations will be made for employees with disabilities, it's essential to note these general requirements so you know what to expect in a foundry environment.
Beyond being able to meet the physical demands of foundry work, employees should have the following qualities to be successful in their roles:
Ability to work independently
Attention to detail
Collaboration
Communication
Cooperation
Dexterity
Willingness to learn
Experience
While past work experience in a related industry is always helpful and can make you a desirable candidate for higher-level positions, you usually won't need anything more than a high school diploma to be a candidate for most entry-level foundry roles.
Most entry-level positions at foundries include on-the-job training to ensure employees fully understand what's expected of them and how to operate relevant equipment and machinery to fulfill their duties. Some specific jobs might require credentials, such as a forklift certification, which may be available online.
Overall, as long as you have a high school diploma and an interest in working with machinery in a fast-paced environment, you should be a great fit for a career in foundry work.
Average Pay for Foundry Workers
In the United States, the average entry-level foundry worker makes around $18-20 an hour. For example, foundry mold and coremakers earn an average of $42,000 a year, according to the Bureau of Labor Statistics. The amount of money you can expect to earn yearly when working in a foundry depends on your role, your location and your experience. Many foundry positions come with comprehensive benefits packages, which can supplement your income.
Apply With Warner Brothers Foundry Company Today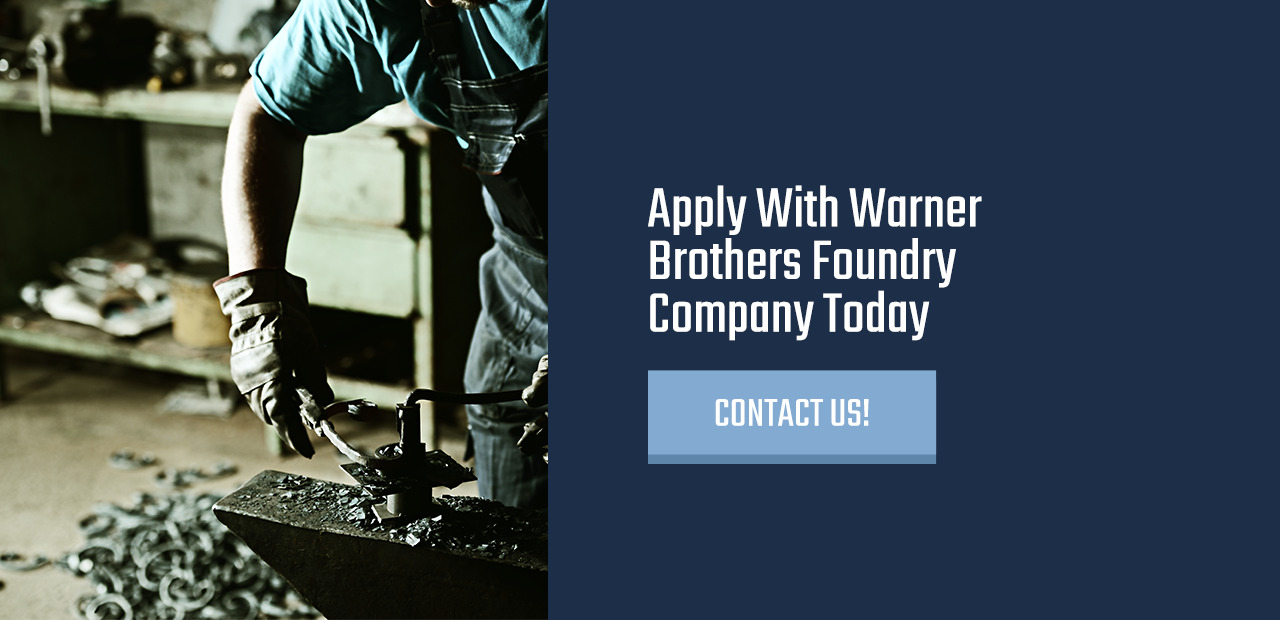 If you're interested in learning more about how to become a machinist or want to jump-start your career, explore the open positions with us at Warner Brothers Foundry Company. Since 1955, we've provided full-service aluminum, brass and bronze casting foundry services for various industries.
By joining our talented team, you can enjoy competitive benefits and a rewarding career. Reach out to us at warnerfdy@wbcastings.com today to start the application process.